Fierce fighting continued over the weekend between Burmese government troops and Kokang rebels supported by ethnic allies. Burma's state media on Monday claimed that the Tatmadaw [Burmese military] had killed 26 ethnic soldiers after a full day's fighting in Laogai on Saturday, which included airstrikes on enemy positions by government forces.
"Sporadic fighting continued all day long, with the [Burmese] army seizing 100 small arms, ammunitions, eight walkie-talkies, four laptops and narcotic drugs, killing 18 and capturing eight others, all of whom were seriously wounded. The captured Kokang defectors all died of wounds they had suffered amid medical treatment given by the government troops, who still keep on securing [Laogai] and its vicinity," the state-run Global New Light of Myanmar reported on Monday, citing military newspaper Myawady.
On Sunday, a Burmese military convoy with troop reinforcements was ambushed on the road between Kyaukme and Hsipaw, costing one life, according to local Shan State police.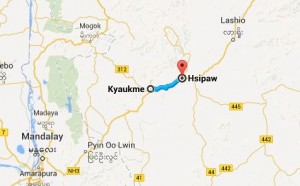 The convoy of six Burmese army trucks was travelling on the highway from Mandalay to Lashio en route towards the Kokang Special Region in northern Shan State, near the Chinese border. Hostilities have intensified there over the past week between the Burmese army and its government-loyal Kokang units against an alliance of Kokang rebels under the banner of the Myanmar National Democratic Alliance Army (MNDAA) who are supported by the Ta-ang National Liberation Army (TNLA) and, they claim, other ethnic militias.
"We have been informed that a convoy of six military vehicles were travelling from central Burma with reinforcements to the fighting in [Kokang capital] Laogai on Sunday when they were ambushed. One soldier sacrificed his life for the country," an officer at Kyaukme police station told DVB by phone.
He said that as several militias are active in this area, it is unclear which group was responsible for the ambush, adding that "a few more clashes subsequently broke out as the Burmese army chased down the attackers".
The TNLA, the armed wing of the Palaung State Liberation Front, released a statement saying it had clashed with the Burmese army in Lashio district's Hsweni three times on Sunday, and that the government side had sustained six casualties, while also losing one truck and two motorbikes.
Meanwhile, AFP reported on Monday that the Burmese military continued to carry out airstrikes and ground assaults on rebel positions over the weekend.
It quoted a military spokesman for the TNLA, saying two jets and two helicopters were involved in attacking TNLA and MNDAA positions.
In an interview with DVB on Sunday, La Nan, the spokesperson for the Kachin Independence Organisation (KIO), appeared to cast doubt on whether the Kachin rebels were actively involved in supporting their Kokang and Palaung (Ta-ang) allies in the current wave of hostilities.
[related]
"We have no plan to get involved in the fighting as that area is rather far from us," he said. "However, as the fighting is also taking place in an area where our Fourth Brigade is active, it is possible that some of our troops could be engaged in the fighting – but there is no plan for our units positioned elsewhere to join in."
Meanwhile on Monday, state media reported that Burma's Commander-in-Chief Snr-Gen Min Aung Hlaing visited injured Burmese soldiers at a hospital in shio on Sunday, and also met with civilian refugees fleeing the conflict in Laogai.
Global New Light of Myanmar quoted him telling the wounded and their families at Pyin Oo Lwin military hospital that the defence services are waging a "just war to defend the sovereignty of the state" and that they have the support of the monks and the people.