Video by AFP
The Arakan state government has assured foreign tourists it is safe to travel to Ngapali beach in Sandoway [Thandwe] township despite an outbreak of communal violence in nearby villages that left five people dead last week.
A state government official who did not wish to be named told DVB that "not a single drop of tourist blood" would be spilled in Ngapali as there is a tight security presence in the area.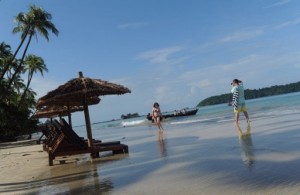 Concerns have been raised after four days of mob violence between local Muslims and Buddhists left five dead, five injured and about 70 homes destroyed. However, calm has since been restored in the area and no further reports of violence have surfaced.
On Wednesday morning, a staff member at a hotel resort in Ngapali confirmed that a curfew imposed after the riots had been lifted on Tuesday night in the hotel zone and beach area, though a 6pm to 6am restriction on movement was still in place in the main Sandoway district.
Embassies in Rangoon have not issued any warnings to foreigners about travelling to Ngapali as the popular beach resort prepares for its high season starting in October running through to February.
Kyaw Swa Maung Maung, manager of the Amazing Ngapali Hotel, said tourists can rest assured. "The Ngapali beach hotel zone is located some five miles from Sandoway town and the villages where mob violence occurred, and there are two army battalions based nearby to provide additional security," he said.
[related]