FROM THE DVB NEWSROOM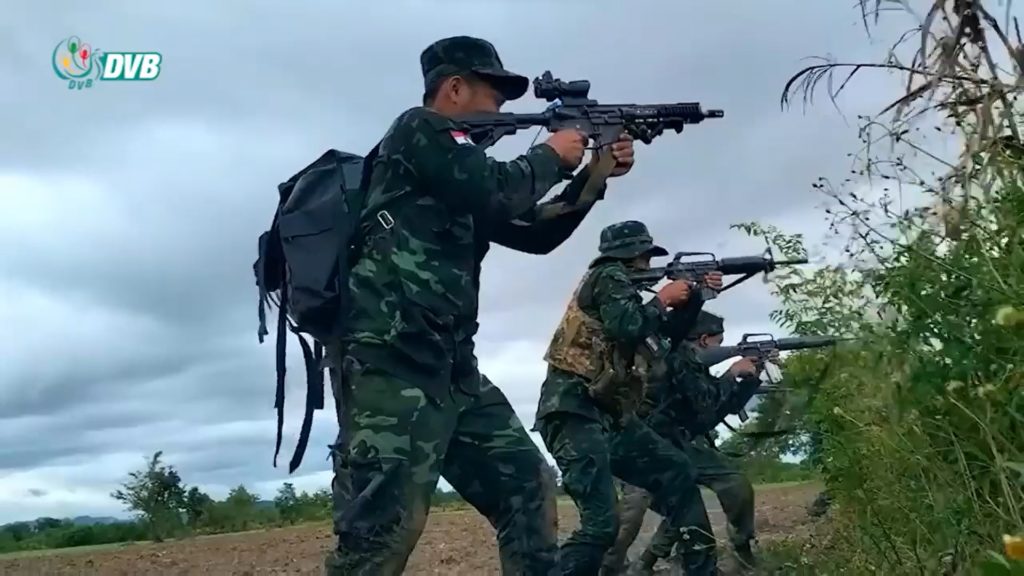 DVB Peace Documentary 2022 Finalist: "Karenni"
"Karenni" was one of the finalists of DVB's Peace Documentary 2022. This film documents those who lost loved ones during the 2021 Christmas Eve massacre that took place in Moso village of Hpruso Township in Kayah (Karenni) State, Burma. It shares the story of the Karenni people who've joined the Spring Revolution against the 2021 military coup, and it reflects on those who were killed one year ago in the Karenni region. You can watch it here.
Junta leader hands awards to allies
Min Aung Hlaing gave honorary awards to 744 individuals including the Vice-Commander-in-Chief Soe Win at an event in Naypyidaw on Jan. 1. He gave a posthumous award to former dictator Ne Win. "It is a tribute to all those who have sacrificed their lives for the country's independence," said the current coup leader Min Aung Hlaing.
NUG's acting president gives New Year's speech
The National Unity Government's (NUG) Acting President Duwa Lashi La gave a New Year's speech on Jan. 1. "The key to success depends on resistance forces and the unity of the public and I'm sure we will succeed. 2023 is an important year and will be a turning point for the country. Let us continue to fight together with our NUG, the ethnic armed forces, revolutionary groups and the entire people," he said. The NUG claimed that a total of 1,500 members of the People Defense Forces (PDF) were killed and more than 20,150 Burma Army personnel were killed since it began its "People's Defensive War" in September 2021.
Court hands death sentence to teacher
The Hinthada District Court gave the death sentence to a teacher in Myanaung Township, Ayeyarwady Region on Dec. 30. Kaung Khant Kyaw was convicted by the court of murder and for violating Section 50(J) of the Counter-Terrorism Law. "He has been detained at Hinthada prison for over a year. The court handed him a death sentence on Dec. 30 and he was transferred to Pathein Prison on the same day. It happened so suddenly," a source close to his family said.
News by Region
AYEYARWADDY—A student leader at Maubin Technological University was sentenced to 10 years in prison on Dec. 30. Shwe Chu Wine is the information officer at the All Burma Federation of Student Unions (ABFSU) in Maubin town. "She was sentenced under Section 50(J) of the Counter-Terrorism Law," a source said.
KAREN—The Karen National Union (KNU) office of the Commander-in-Chief of Brigade 5 warned military appointed administrators to resign and leave Kamamaung Township, Hpapun District before Jan. 10. "We issued this kind of warning last year to government staff to not collaborate with the military's administration. At that time, their administration wasn't able to operate in Hpapun. We issued the warning again this year to make sure they cannot operate there," said Major Kalel Doh, the spokesperson of KNU Brigade 5. The KNU's Brigade 5 declared it will continue to fight against the junta and would not recognize any election organized by it.
MANDALAY—Regime media stated that the Burma Army arrested 16 resistance fighters with explosives planning a bombing on Dec. 31 in Mandalay. The report went on to state that two men detained earlier the same day in Aung Chan Mya Tharsi Township tipped off the Burma Army.
RAKHINE—Junta authorities in Kyaukphyu stated that armed groups coming into town will not have to face inspections on Jan. 4. "There will be a stage show and games on January 3 and 4 for Independence Day. They said they will halt inspections then and armed groups in Rakhine State can go anywhere freely," a local said. The junta is planning to celebrate the 75th anniversary of Burma's independence.
The junta's Department of Immigration and Population announced that it will begin to collect voter data in Rakhine state on Jan. 9. This is in order to determine the number of eligible voters for the junta's upcoming elections in 2023.
TANINTHARYI—A Burma Army soldier was killed and a police officer was injured after an altercation between the two at Launglon Police station on Jan. 1. "I heard four gunshots and someone was down. They were fighting each other," a local said. An ambulance transported the injured to Dawei Hospital. Unverified reports claim the police chief was also injured in the altercation.
YANGON—A ward administrator was shot dead by armed men at a tea shop in Hlaing Tharyar Township on Jan. 1. "The gunmen came on a motorcycle and shot at them. Everyone, including the injured administrator, ran away. He was killed after being shot in the head," a source said. The victim was a member of the Union Solidarity Development Party (USDP), according to locals.