FROM THE DVB NEWSROOM
Fire ravages Rohingya refugee camp in Bangladesh
At least 3,000 Rohingya families have lost their shelters in a fire at Balukhali Refugee Camp, located in Bangladesh's Cox's Bazar district on Mar. 5. Balukhali is where many Rohingya have sought shelter and protection since fleeing their homes in Rakhine State in 2017. "I have no idea whether the fire was accidental or intentionally set. This has increased the suffering of refugees. Some refugees are taking shelter in nearby houses. Most of them are living in the streets outside the refugee camp," a Rohingya man told DVB. There have been no reports of casualties, and the origin of the fire is still unknown. "We couldn't take anything. The houses were made of bamboo and thatch. The fire was quite fast, so everyone had to flee," another man said. The UNHCR tweeted that the disaster left "2,000 shelters damaged or destroyed, 12,000 refugees who lost everything again, and 90 facilities, including hospitals and learning centers, burned down."
NUG claims at least 30 massacres committed by Burma Army
The National Unity Government (NUG) Human Rights Minister Aung Myo Min said there has been at least 30 recorded massacres (of five or more people) committed by the Burma Army since the 2021 coup. Aung Myo Min made this claim at an online press conference on March 6 in response to the regime's recent massacre in Sagaing's Myinmu Township, where 17 people were killed. "When I was on my way to work in another village, a military column entered our village, and I heard that my family members were also arrested by the military. I first thought that the military would not kill the women, but my family was brutally killed," said a man from Tatai village who lost four family members, killed by the Burma Army. A witness said the bodies were "unpresentable," as they had all been tortured before being killed. According to him, the Burma Army entered the village by disguising themselves as the People's Defense Forces (PDF) before massacring 17 people. Burma's Permanent Representative to the United Nations Kyaw Moe Tun released a statement calling on the international community "to expand sanctions against the illegal military junta."
News by Region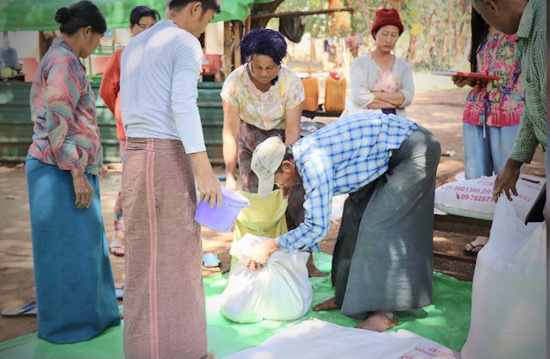 KARENNI—Internally Displaced People (IDPs) in Karenni State are facing increasing rice prices since March 3. Local relief groups said that rice paddy fields have been impacted due to late harvests or travel restrictions into the state imposed by the Burma Army. "Before the prices rose, that kind of rice cost K30,000 ($14.29 USD) and was affordable for ordinary people. But now it has risen to 50,000-60,000 ($23.81 to 28.58 USD)," a local told DVB. "Now, in some IDP camps, rice cannot be eaten anymore, so they only eat rice porridge instead. The main need here and everywhere else is rice. Now, even if there is money to buy rice, there is no rice," said a member of the local relief group. Nearly 100,000 Karenni live in IDP camps. They are in urgent need of food and water.
MON—An 80-year-old woman was killed in Aung Thayar village of Ye Township on March 5. She died on the way to the hospital with a stomach wound caused by an artillery shell, according to locals. The shells fired by the Burma Army damaged the roof of the village's monastery.
MAGWAY—Approximately 1,000 IDPs in Seikphyu Township are unable to access purified drinking water. "It is really necessary for them to be able to access clean drinking water. Water is difficult to get as it is summer," a member of the local PDF told DVB.
SHAN—A ceremony to commemorate the 74th Pa-O National Day was held in Pinlaung Township on March 5, local media reported. The Pa-O community gathered to celebrate the occasion by performing traditional music and dance.
SAGAING—A 12-year-old child was killed in a village in Khin-U Township on March 5. The child brought unexploded ordnance to his home. It exploded while he was playing with it. In April 2022, one villager was killed and three children were injured in a similar incident, according to locals.
NAYPYIDAW—Strict security measures have been imposed by regime forces after explosions took place March 1-2. "They conducted security checks where they had never done inspections before. They asked about everything in detail, such as 'Where are you from?' and 'Where will you go?'" a resident told DVB. Locals suggested that the explosions were in response to the regime's preparation for Armed Forces Day on March 27.
TANINTHARYI—Thirty-four deaths and 10 injuries were reported due to "attacks targeting civilians" in February 2023, Southern Monitor reported. A total of 37 violent incidents occurred in February 2023 throughout the region. Recently, nine members of the local PDF were killed during a Burma Army attack on Khamaukkyi Township in Kawthaung district.