After more than five decades of censorship, the art scene is blooming in Burma and artists enjoy a newfound freedom.
During military rule, art was used a way to express political messages and circumvent censorship laws. But today, now that censorship has been officially lifted, disagreement exists about the role art should play in society, and whether or not it should receive economic support from the government.
This week's DVB Debate panellists are: poet and former political prisoner Saw Wai; poet Ma Ei; and Radio Free Asia programme producer Nyein Wai. Special guests include guitarist Ye Lwin and artist Myint Soe. The audience includes a variety of poets, writers, musicians, singers, painters, art critics, comedians and gallery owners.
While Nyein Wai said that nothing is above art, Ma Ei countered that art and politics are inextricably intertwined. Saw Wai, who was imprisoned for a satirical poem he wrote about former dictator Than Shwe, said his artwork is driven by his political beliefs.
"My guitar is my weapon, just like guns are their weapons," said musician Ye Lwin. He said he is inspired by the Beatles and is working for peace and love.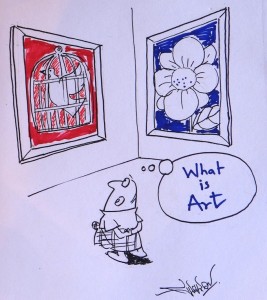 Some of the artists from the audience opined that their art reflects the era in which it was created, while others expressed the opinion that artwork does not always have to reflect the political landscape. Art itself can stand alone without any political message or position, they said.
"Politics is not complete without art, but I believe art can be successful without any relation to politics," said artist Khin Aung Aye.
The panellists mostly disagreed on the funding of art. Nyein Wai said that the government should develop an art budget to support artists and encourage them to continue their work, but the other panellists thought this was unnecessary. Ma Ei said she would not want to work with any government project.
Next week on DVB Debate: Can Burma really achieve peace in 2013?
You can join in the debate and watch the full programme in Burmese at www.dvbdebate.com
Or share your views with us by commenting on our website at http://www.dvb.no/category/dvb-debate
[related]