Japan International Cooperation Agency (JICA) will invest US $250 million over three loans to help upgrade Rangoon's existing Circular Railway line.
The Japanese government agency has also proposed two underground rail lines and a light rapid transport system, to ease growing traffic congestion around the city, JICA told DVB on 14 August.
Japan's Prime Minister Shinzo Abe met with Burmese President Thein Sein in July to discuss bilateral relations between the nations. The heads of state discussed the continuing support Japan provides from both the public and private sectors as Burma undergoes political and economic reforms, according to a statement made by the Japanese Ministry of Foreign Affairs.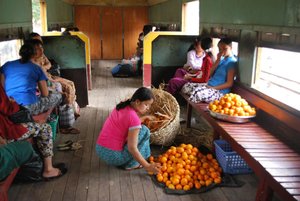 The Japanese Prime Minster pledged a modernisation of the existing circular railway through JICA, which will include new signaling and train carriages.
The existing Rangoon circular railway, owned by Japanese company Myanmar Railways, has become an unlikely "must see" on the tourism "to- do" list. Starting at just 1,000 kyat (one US dollar) for a basic seat, passengers can take in a three-hour tour of the sprawling city in colonial-era wooden compartments.
Shigehiko Sugita, deputy director of JICA's Southeast Asia and Pacific Department, told Myanmar Times that large-scale upgrades to Rangoon's infrastructure is necessary, as the city's population is expected to double from 5.1 million to 10 million by 2040.
[related]
The representative from JICA said that Rangoon could learn from Bangkok's failure to develop transport infrastructure to keep pace with their growing population, adding that, "The good news is that Rangoon – like London or Tokyo or Moscow – already has a circle line. This shows potential".
Research from JICA predicts that unless "drastic action" is taken to bring the city's transport systems up to date, residents will face increasingly long traffic jams exacerbated by a rising number of cars on the roads.