FROM THE DVB NEWSROOM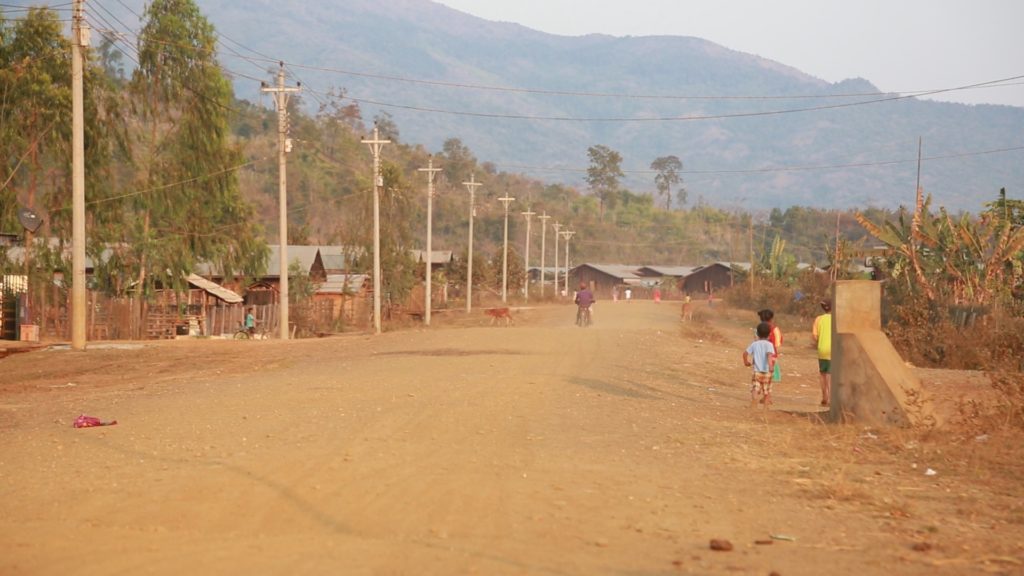 The NUG criticizes UNOCHA aid efforts in Burma
The National Unity Government (NUG) stated that the United Nations' humanitarian assistance to Burma has been ineffective, RFA reported. The UN Office for the Coordination of Humanitarian Affairs (UNOCHA) stated that 17.6 million people in Burma are in need of humanitarian assistance since 2021. But UNOCHA has been able to assist four million people in the country so far this year. It stated that Burma's conflict has made providing aid more difficult. "We have seen that its programs are mainly concentrated in the Yangon Region and they cannot provide aid effectively to other regions where the need for humanitarian aid is urgent," said Win Myat Aye, the NUG Minister of Humanitarian Affairs and Disaster Management.
Mae Sot refugees suspend protests after online threats
Burmese nationals who have conducted protests for refugee rights in Mae Sot have suspended their protests after receiving online threats, a group called Maesot Refugee Voice told DVB. Maesot Refugee Voice has staged demonstrations at least six times in front of the United Nations High Commissioner for Refugees' (UNHCR) office and other key offices in Mae Sot, Thailand. The protests were held in silence, with people holding placards with slogans like "Save Myanmar Refugee" and "Recognize and Accept Burmese Refugee."
The group said it would suspend its protests after receiving threatening messages on Feb. 14. "We have received warning messages from two fake Facebook accounts saying to end the protests," a spokesperson of Maesot Refugee Voice told DVB. The protesters urged Thai authorities to stop "extorting money" and demanded the release of detained refugees. The group added that it would continue to advocate for the rights of refugees online. According to refugee rights groups in Mae Sot, approximately 200,000 Burmese refugees have arrived to the Thai-Burma border town since the coup, and approximately 300 refugees are currently being held in Bangkok and Mae Sot detention centers.
News by Region
BAGO—At least 20 people have been arrested on accusations of being connected to explosions in Bago town. Three blasts occurred across the town on Feb. 7-8. "A 17-year-old man was among those arrested, but he was not included on the junta's arrested list. He is missing," a spokesperson of Bago People's Defense Force (PDF) told DVB. A resident said that security has been tightened at the entrances to the town and young people are being arrested.
KACHIN—The Burma Army raided a house hosting a funeral reception in Nan Mar town, Mohnyin Township. They arrested at least 20 people at the funeral and seized the body. "I heard the Burma Army took his body because it claimed he was killed when making an explosive device at home," a local said.
KAREN—The number of displaced people in Karen National Union (KNU) territory has reached nearly 400,000 since the coup, the KNU announced. The displaced are still in need of assistance as their number continues to rise. UNOCHA expressed concern over the security and humanitarian conditions in Karen State due to the fighting.
MAGWAY—The NUG Ministry of Defense claimed resistance forces have killed 31 pro-regime forces in 19 separate attacks carried out in Magway Region on Feb. 8-9. Attacks were carried out on the air force base headquarters, general administration offices, the police stations, weapons factories, and militia outposts. There were reports of fighters being injured in the attacks. The DVB could not independently verify the claims made by the NUG.
MON—A leader of a pro-regime militia was killed in Yin Nyein village, Paung Township on Feb.15, locals told DVB. The resistance group claimed the man was an ex-military personnel who arrested and threatened civilians. The Burma Army set up a roadblock outside of the village, and along the Yangon-Mawlamyine highway.
SHAN—Air force planes bombed the Battalion 9 headquarters of the Kachin Independence Army (KIA) Brigade 6, located in northern Shan State, according to sources. Fighting broke out when regime forces launched an offensive on the KIA Brigade 6 on Feb. 13, a KIA source told DVB. "There were five clashes that day and it continued the next day," he said. The bombings occurred during the offensive. Fighting continued on Feb. 15. The KIA spokesman Colonel Naw Bu said that fighting between the Burma Army and KIA continued in Kutkai town, northern Shan State. "We think they are trying to extend their territory for their upcoming election," he said.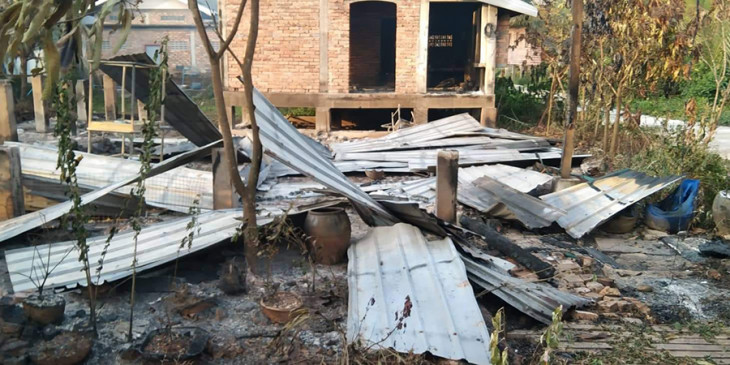 TANINTHARYI—Over 100 houses have been destroyed in arson attacks committed by regime forces in To village, Pulaw Township between Feb. 10-13, according to the People's Defense Force (PDF). Houses of their family members, as well as those belonging to family members of striking civil servants in the Civil Disobedience Movement (CDM) were attacked by arsonists "We have no home to go back to. This is an outrageous and inhumane action," a local said. Last December, over 4,000 residents fled To village.
A local People's Defense Force (PDF) has started training villagers on how to stay safe during possible airstrikes on Tanintharyi Township. The PDF told DVB that it conducted the training to mitigate the impact of the air strikes as they are mostly likely to occur in the NUG-controlled areas of the township. Locals have also been urged to make bomb shelters. "An aviation attack warning has been announced in the villages, so we want to prepare in advance," a PDF member told DVB. Tanintharyi Township is one of 37 townships placed under martial law.
A couple was placed under investigation by the regime on Feb. 13 after giving a donation in honor of General Aung San's birthday in Myeik town. "The couple were arrested in a tea shop, but were released on the same day," a local told DVB. Feb. 13 was the birthday of General Aung San, who is called the "Father of the Nation" by many in Burma. He was the father of Burma's jailed leader Aung San Suu Kyi.
Aung San Suu Kyi's son, Kim Aris, is raising funds for the CDM and IDPs – families displaced by violence in Burma. Aris is hosting a live draw on Feb. 28 and has already raised $350,000. DVB English is on-demand via Facebook, Twitter, YouTube, TikTok, Instagram & Substack.