FROM THE DVB NEWSROOM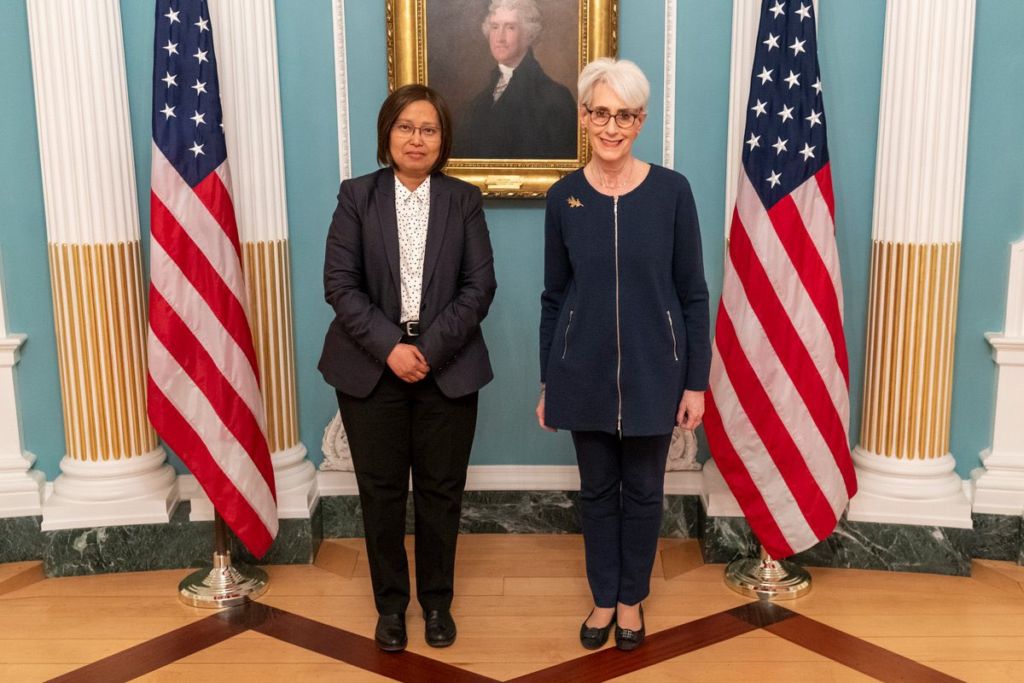 NUG Foreign Minister meets with U.S. Deputy Secretary of State
The NUG Foreign Minister Zin Mar Aung met with the U.S. Deputy Secretary of State Wendy Sherman in Washington, DC, on Feb. 14. Sherman reiterated U.S. support for democratic groups and stated that the government will continue to work with its partners to put Burma back on its path toward democracy. On Feb. 13, the NUG opened its new foreign affairs office in the U.S. capital. Top NUG officials, including Burma's Permanent Representative to the UN Kyaw Moe Tun, attended. The NUG confirmed that U.S. State Department officials were also in attendance. Before the U.S., Zin Mar Aung was in the U.K. to meet with senior British officials.
U.S. sends further humanitarian assistance to Burma
A U.S. humanitarian aid package of $50 million is being sent to Burma as emergency food and nutrition assistance through the U.S. Agency for International Development (USAID).
NUG to take action against online schools
The NUG Ministry of Education announced that it will take action against the management of two online schools that leaked information of students and misused school funds. The investigation into the founder of Free Online Education Institution Myanmar (FOEIM) determined that he failed to provide monthly data of the funds to his school teachers and office staff. The NUG Ministry of Education said this will lead to action against him, and others, for the discrepancies in the financial figures of the school. The Kaung for You (K4U) school investigation concluded that the data maintenance and management team was responsible for leaking students' private information to the public. Both schools were founded in 2021. More than 30,000 students attended the schools.
NUG calls on the public to monitor movements of the Burma Air Force
The NUG Ministry of Defense invited members of the public to serve as aerial reconnaissance scouts in order to protect and warn people about regime airstrikes. These aerial scouts would monitor air bases, airports, and heliport in order to inform the NUG and anti-coup forces about air force activities and air traffic.
News by Region
KACHIN—Almost all fuel stations in Hpakant Township have been shut down since Feb. 15 due to fuel shortages, locals report. The Burma Army banned the purchasing and transportation of fuel in Hpakant in January due to tensions between the Kachin Independence Army (KIA) and Burma Army, leading to fuel stations shutting down. "In previous days, a limited amount of fuel could be bought, but now nearly all stations are shut down. I can't buy fuel for my motorcycle and it is very difficult to get around," a Lonkin village resident said. Some street fuel shops remain open and sell fuel at K3,000 to 4,000 ($1.43 USD to 1.90 USD) per liter.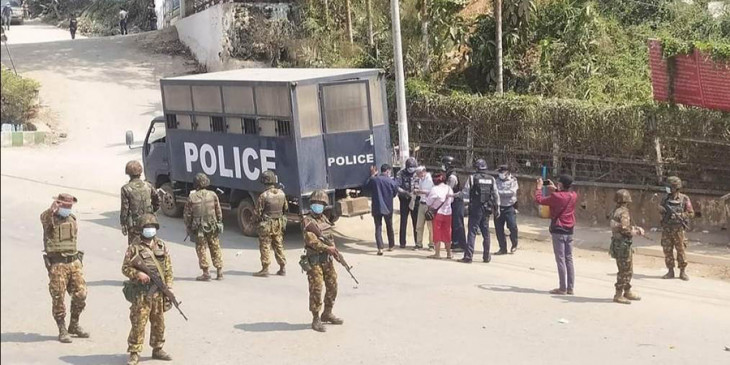 At least 15 locals were arrested by the Burma Army in a raid on a jade mine in Hapkant's Mawsisar village on Feb. 15, according to locals. "There were about 30 military troops. Gunshots were also heard. I don't know why they were arrested," a local told DVB. The motive behind the raid and arrest is currently unknown. The Kachin Independence Army (KIA) and resistance forces in the area have frequently clashed with the Burma Army.
RAKHINE—The junta-appointed state government announced that it collected K700 million worth of registration fees from the owners of unlicensed motorcycles from Sept. 28, 2022 to Jan. 30, 2023. "They revoked all permits on importing motorcycles after the coup not just in Rakhine, but nationwide. The money was earned by forcing unlicensed motorcycles to be licensed at Sittwe's Road Transport Administration Department," a merchant who imports motorcycles said.
A man had his leg amputated after stepping on a landmine in Kyauktaw Township on Feb. 15. "The patient was seriously injured, so they are working to transfer him from Kyauktaw Hospital to Sittwe Hospital," a local told DVB. According to locals, the incident occurred near a Burmese Army battalion. The detonation of unexploded ordnances in Rakhine State in 2023 have resulted in five civilian deaths and another six injuries.
DVB Peace Documentary 2022 Finalist "The Peace Story" is about increasing drug use among young people in Burma since the coup. DVB English is on-demand via Facebook, Twitter, YouTube, TikTok, Instagram, Substack & Podcast.