Sandar Khine remembers well how a surreptitious gathering during the dark days of military rule in Burma 15 years ago inspired her to paint the subject that would come to define her work.
"I got a chance to do a new type of drawing with a group of artists. They arranged to do a live nude drawing secretly in a room somewhere," she said.
"I liked this type of painting … Later I found a model myself and did more and more paintings."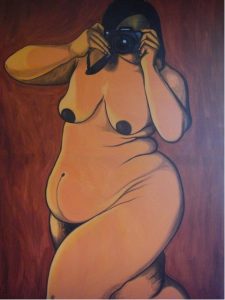 The 43-year-old artist has lately been winning acclaim for her powerful, bright-coloured depictions of nude, chubby men and women that capture their body shapes and curves through the use of simple lines and shadow.
"The [government] censor didn't allow it, and it's also culturally sensitive," she said of the secret meeting held despite the threat of arrest were they found out.
For artists who deal with political and culturally sensitive subjects, everything changed after 2011, when the army installed a reformist government that lifted decades-old restrictions on freedom of expression.
The local art scene has since flourished, numerous galleries have opened up in Rangoon [Yangon] and other cities, and artists have begun exploring new ideas. Interest from domestic and international art collectors has greatly increased, pushing up prices.
Sandar Khine was able to finally have her first exhibition in Rangoon in late 2013.
"There was an explosion of political art – everyone started to paint Aung San Suu Kyi and Gen. Aung San," said Min Lwin, referring to the country's independence hero and his daughter, who was held under house arrest by the junta for nearly 15 years.
"Now, artists have started moving on," said Min Lwin, who opened Gallery 65 in Rangoon in 2010. "They are looking more into culturally subversive matters."
Aung Soe Min said he opened Pansodan Gallery in a colonial-era building in downtown Rangoon in 2008 to help local artists, who suffered from censorship, a lack of resources, and from the absence of government museums, art schools or theatres to train and support them.
When it opened, the gallery was the city's only exhibition and meeting space for independent artists, critics and collectors.
"Now, just in downtown alone there are 30 new galleries," he said.
Min Lwin recalled that obtaining a permit for an exhibition used to involve neighbourhood, township and regional authorities, as well as approval from a censorship committee, which would preview every show.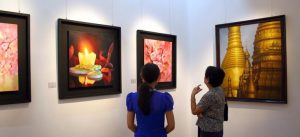 "Every time we would have three or four works removed or retitled. If there were certain colours and a woman in the painting that would be a problem" as it might suggest Suu Kyi and the red-coloured flag of her opposition National League for Democracy, said Min Lwin.
"Often some of my paintings would be cancelled," said Nyo Win Maung, 59, a painter with New Zero arts group.
The local art scene is made up of dissident painters, poets, writers and political activists who formed networks that resisted army rule, said Nathalie Johnston, an American researcher who has studied Burmese contemporary art since 2009.
"Everyone is intricately linked," she said. "You find these communities in every city across the country."
Now, international support for artists is growing, Johnston said, as overseas collectors, museums and art centers have taken an interest. Overseas study programmes are becoming available to local artists, while international firms investing in the country have begun supporting cultural events.
The works of about two dozen of the artists were exhibited last year at Hong Kong's Visual Arts Center, in Germany's Linden-Museum in Stuttgart and at Miami's Art Basel.
Germany's Goethe Institut set up an office in Burma in late 2013, and is one of the main international organizations supporting documentary film, music and visual art. In March, it opened an exhibition and education centre in a historic villa in central Rangoon, which will be renovated and expanded with 3 million dollars from Germany's Foreign Affairs Ministry.
"In Burma – where during the 50 years of isolation, education and cultural activities were so much damaged, run down and neglected – there is a need to rebuild [arts education]," said Franz Xaver Augustin, director of Goethe Institut Burma.
There are fears among artists and gallery owners that the progress in the arts since 2011 may be reversed if there is any backsliding on democratic reforms.
[related]
Critics of the government cite a crackdown on student protests in March and the prosecution of journalists in recent months, as well as more subtle forms of censorship under the current government, which is run by former generals.
In April, a photo exhibition at Rangoon's Think Gallery shut down after the notorious Special Branch police demanded the removal of several photos showing riot police violently cracking down on the student protests.
"A week later they issued a letter to all galleries saying they need to ask for a permit first," Min Lwin said. "So far, we've had no problems, but I would assume they're keeping a close eye on things."