A series of small islands on the Salween River is at risk of "going under" if construction of a hydro-power goes ahead as planned, says a local Shan environmental group.
A new documentary, Drowning a Thousand Islands, was screened in Rangoon, Taunggyi and Chiang Mai on Wednesday. It tells the story of the cultural significance of the Pang river valley in Kunhing, Shan State, which is under threat if plans continue to build the Mong Ton dam.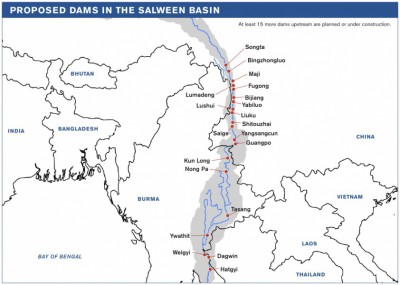 An environmentalist from Shan State Rivers Network, Sai Khur Hseng, said, "these islands have existed a long time in our history. The Shan people depend on them for their livelihoods and enjoy a high standard of living."
He said the area, known locally as kun-heng, meaning 'thousand islands', is particularly special as it has fertile soil which allows farmers to grow everything from rice paddy to mangoes.
"It's also a very rich ecosystem. The people that live around the islands and fish in the water live very simply and naturally, so the biodiversity conservation is very good," said Sai Khur Hseng, speaking to DVB after the screening.
Mong Ton is one of six proposed dams on the Salween — alongside the Kunlong, Naung Pha, Ta-Hsang, Ywathit and Hatgyi dams — that has been opposed by local people who claim it will displace entire communities.
Last month, fingers were pointed at the preparations for the dam construction by the Committee for Shan State Unity (CSSU), a coalition of Shan political parties and armed groups, who also said they believe the hydro-dam project will further intensify armed conflict in the area.
Mong Ton dam is to be built to a capacity of 7,100-megawatts, and funded by the China Three Gorges Corporation and the Electricity Generating Authority of Thailand.
Sai Khur Hseng says blocking the Salween River to build the dam will cause flooding. He added: "It's also very dangerous as it is on a fault line and in a military [conflict] zone."
An estimated 300,000 people have already been displaced from their homes; that number includes those who evacuated their villages due to the recent hostilities involving Burmese government forces and a number of ethnic militias, and the thousands who were victims of a mass programme of forced relocations in 1996 under the then military government.
Drowning a Thousand Islands features interviews with displaced individuals living in camps along the Thai-Burmese border who expressed their desire to move home. But as for compensation for people living in the zone where the dam is to be constructed, Sai Khur Hseng said there has been little detail shared with the local community.
The Snowy Mountains Engineering Corp was hired to conduct the social environmental and social impact assessment for the dam, but NGO Shan State Rivers say they did not follow good practice for community consultation. "They gave us just two hours' notice of their meeting. How can we organise people with so little warning?" asks Sai Khur Hseng.
[related]
A case study shown in the documentary on Wednesday was the Paung Loung dam which flooded local villages.
The surreal image of a Buddhist monk floating past his local monastery on a piece of wood will undoubtedly serve as a warning of what's at stake if this hydro-project goes ahead on the Salween River, says Nang Kham Mai, a local youth representative from Kun Hein Township in Shan State.
"That image was filmed on the Paung Loung River, which is much smaller than the Salween," she said. "So we can only imagine the scale of what it will be like for people along the Salween River."
NOTE: Shan State Rivers says the documentary Drowning a Thousand Islands will be posted on its Facebook page from 29 September 2016.