FROM THE DVB NEWSROOM
Supreme Court sets dates for Aung San Suu Kyi and Win Myint appeal
The Union Supreme Court will hear the appeal of jailed leaders State Counselor Aung San Suu Kyi and President Win Myint next month, according to an unnamed source close to the court. "Charges of electoral fraud and violating the Official Secrets Acts will be heard July 5, and the corruption charges will be heard on July 12 and 18," said the source. Aung San Suu Kyi, 78, has been sentenced to a total of 33 years and is being held at Naypyidaw Prison. Win Myint, 71, was sentenced to 12 years. The NUG expressed its concern about the president's health conditions inside Taungoo Prison. The unnamed source also mentioned that Aung San Suu Kyi's health is good. Concerns over her health and well-being were raised by her son, Kim Aris. Aung San Suu Kyi and Win Myint, held since the Feb. 1, 2021 military coup, have not been allowed to meet with their lawyers to discuss their appeals since last December.
Regime admits drug policy failure
More than $446 million USD worth of drugs, including heroin and methamphetamine, was destroyed for International Day Against Drug Abuse and Illicit Trafficking on June 26. "Although we can arrest many drug distributors, users and producers, it was found that illegal drug trafficking has not decreased," said Soe Htut, the regime's head of the Central Committee on Drug Abuse Control (CCDAC). The Taunggyi Red Cross Association states that students who attended the burning ceremony in Taunggyi fainted after narcotics were set on fire. More than $207.8 million USD worth of drugs were destroyed at a ceremony in Yangon. The U.N. Office on Drugs and Crime (UNODC) states that since the 2021 coup, opium poppy production has increased with more than 40,000 hectares of land used for cultivation in Burma.
World Bank states economic growth slow in Burma
A World Bank report predicts that Burma's economic growth will expand slowly in the next two years. It states that civil war, electricity shortages, transportation difficulties, financial policies and low incomes are barriers to the nation's economic recovery. "More than half of households have been forced to sell assets, increase borrowing, or limit their spending, including on health and education. Such coping strategies will not only damage welfare in the short term, but also affect longer-term earning capacity," said Mariam Sherman, the World Bank director for Laos, Burma and Cambodia.
Central Bank cracks down on 'illegal' foreign currency traders
The Central Bank of Myanmar (CBM) stated that it will take action against 51 illegal foreign currency traders arrested for trading without a license in Yangon and Mandalay. Two companies were found to have received suspicious money transfers for online gambling. The CBM warned that it will take action against anyone that fails to follow its directives under the Anti-Money Laundering Law and Foreign Exchange Management Law. The trading of foreign currency and gold has decreased due to CBM inspections. The USD exchange rate rose to K3,200 per $1 USD while a tical of gold reached up to K3.2 million ($1,524 USD).
News by Region
KACHIN—Fuel stations in Hpakant Township have been shut down since early June after the Burma Army restricted access to vehicles carrying fuel inside the township. Locals claimed the Nanyar inspection gate on Hpakant-Myitkyina Road only allows two to three fuel trucks per day, causing shortages in the town. "The restrictions are currently forcing many fuel stations in Hmaw Sisar village to close," said a Hpakant resident. The Burma Army began restricting access to fuel in January 2023 due to fighting with the Kachin Independence Army (KIA).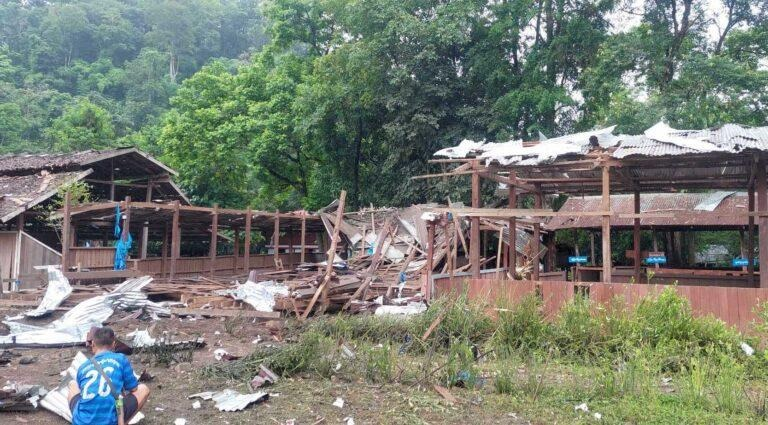 KAREN—A resistance fighter was killed and buildings were damaged during an airstrike on Ka Nin Ka Moh village, Duplaya district of Karen National Union (KNU) Brigade 6 territory on June 27. Two villages in Mutraw district, KNU Brigade 5 territory were targeted the same day. "No civilians were injured as they had fled since a [previous] airstrike on March 27, 2021. An old training school and seven houses were destroyed," said Saw Kaler Doh, KNU Brigade 5 spokesperson.
MAGWAY—Two members of the Union Solidarity and Development Party (USDP) were killed in Kokka village of Gangaw Township on June 26. "They were members of the people's militia and USDP. Members of the militia even attended their cremation," said a Kokka village resident.
SAGAING—Seven people, including a monk, were killed by airstrikes on Nyaung Pin Kone and Chin Pyit villages of Pale Township June 27. It is unknown how many were injured. Five buildings and a monastery were destroyed. "The casualties might increase as three bombs were dropped onto houses and a monastery. We are still clearing the area that was destroyed," said a Nyaung Pin Kone village rescue team member.