FROM THE DVB NEWSROOM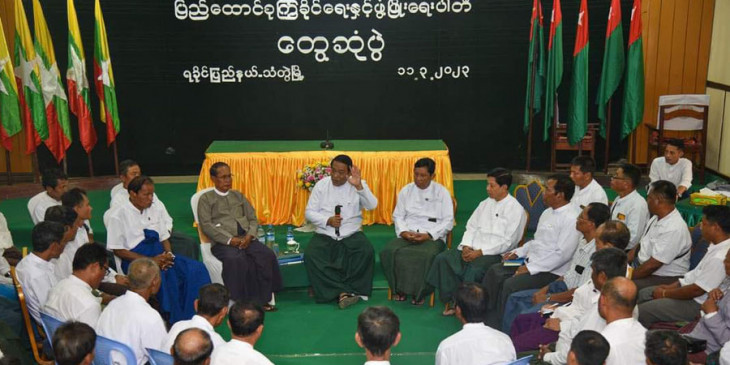 The USDP meets with members in Rakhine State
The Chairperson of the Union Solidarity and Development Party (USDP) Khin Yi met with 227 party members from seven townships in southern Rakhine State on March 11 in Thandwe. Members stated that Khin Yi discussed "electoral fraud" in the 2020 general elections and visited areas where the National League for Democracy (NLD) party won seats in 2020. The Arakan Front Party (AFP) has re-registered with the regime Union Election Commission (UEC) to run in its planned election. The Arakan National Party (ANP) remains undecided about re-registering with the UEC to participate.
Burma's UN Ambassador calls for gender equality
The Permanent Representative of Burma to the United Nations Kyaw Moe Tun spoke at the UN 67th Commission on the Status of Women. He told those in attendance that the Burma Army has "brutally slaughtered" over 3,120 civilians and has committed more than 60 massacres since the 2021 military coup. He added that more than 145 detainees have been killed during interrogation and over 62,000 houses have been burned down by regime forces. Kyaw Moe Tun said that these crimes against civilians, including women and girls, are a violation of international law. He urged the UN to assist the Burmese people to rid the country of the military and to create women's empowerment and gender equality.
HRW urges the UN to take greater action on Burma
Human Rights Watch issued a statement on March 13 urging the UN to expand its 2022 resolution on Burma "by adopting tangible measures to hold the junta accountable for ongoing abuses." HRW added that the human rights situation in Burma has deteriorated rapidly since last year's UN resolution. "Its disregard of the Security Council's December resolution shows the need for a new resolution imposing strong measures like an arms embargo and targeted sanctions for senior military officials and companies linked to the military," said Louis Charbonneau, the UN Director at HRW.
Indian security forces briefly enter Burmese territory
Members of the India Border Security Force (BSF) entered Shwe Lite Wa village, Paletwa Township in Chin State on March 13. They entered via the India-Burma border through Chinland Defense Force (CDF) territory to meet with Burma Army officials. They later returned to India without doing so. The reason for the meeting is unknown. More than 20,000 residents of Chin State have been forced to flee their homes and seek sanctuary in India's bordering Mizoram State due to attacks carried out by the Burma Army in Chin State.
News by Region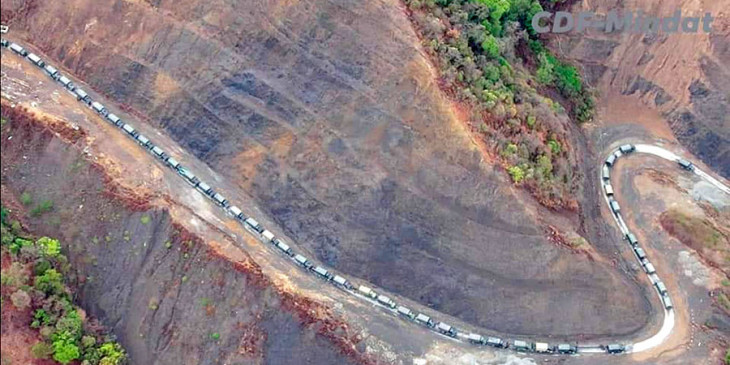 CHIN—The Chin National Front (CNF) stated that fighting will intensify if the Burma Army sends reinforcements to the state. A Burma Army convoy entered southern Chin State from Magway Region on March 13. The CNF added that the convoy aims to supply food to the Burma Army. Thirty military vehicles entered northern Chin State from Sagaing Region. Chin resistance forces reported that six military personnel were killed and more than 20 were injured after an ambush in Sagaing. "The fighting with the Burma Army entering from the north is escalating. There will be more fighting in the future," said a CNF spokesperson.
SHAN—Nineteen Burma Army personnel and two Pekon People's Defense Force (PDF) members were killed in fighting between the PDF and the Burma Army in Pekon Township on March 11-12.
Two elderly residents, and a 15-year-old, were killed in Moebye, the Pekon PDF told DVB. It claimed that the three people were killed after the Burma Army arrested 10 on March 12. The remaining seven are said to have been released.
MANDALAY—An estimated 30 gold miners from villages of Mogok Township were arrested by the Ta'ang National Liberation Army (TNLA) on March 12 at a mining site near Mailon village. Family members of those arrested are concerned as they have been unable to contact them. "The miners have only been able to work by paying money to the TNLA. Everyone was arrested except for three people from the kitchen. I am not sure whether I need to give a bribe for them to be released," a detainee's relative told DVB.
SAGAING—Villagers in northern Shwebo Township have been facing shortages of petroleum and food due to the Burma Army road blockades. "They mainly confiscated dry food, medicine and petroleum that were assumed to be for PDFs. They shouldn't make it difficult for the locals with their assumptions. As a result, we locals are facing difficulties farming as we are using machines. We're unable to use motorcycles and vehicles due to the fuel shortages," a local said. The Burma Army has also imposed restrictions on agricultural soil and fertilizer.
YANGON—A man's body covered in wounds was found on a road in Tamwe Township on March 12. "Now, the situation shows that a human's life has no value. He was dumped from a taxi onto the road with bloody wounds all over the body," a local told DVB. Another man's body was discovered in Botahtaung Township on March 13.
The Mae Tao Clinic is a lifeline located on the Thailand-Myanmar border. Watch our latest story on Dr. Cynthia Maung, produced in collaboration with DW Asia. DVB English is on-demand via Facebook, Twitter, YouTube, TikTok, Instagram & Substack.