Villagers from the country's southernmost division remain locked in an unprecedented legal battle with a Thai-owned tin mining company, which they accuse of flouting a regional order to halt operations while the case proceeds.
Residents from Myaung Pyo village, Tenasserim Division, allege that since Myanmar Pongpipat Company took control of the Heinda tin mine in 1999, in a joint partnership with Mining Enterprise No. 2, their villages have been plagued by a raft of environmental and health concerns. Mining Enterprise No. 2 is an arm of the Ministry of Natural Resources and Environmental Conservation, and commands a 35 percent cut of profits from the extractive enterprise as a non-operative partner.
In a Wednesday press conference in Rangoon, locals from Myaung Pyo, in Dawei Township, detailed the ongoing struggle against a company that they say has paid their concerns no mind.
Represented by the Dawei Pro Bono Legal Network, a case against Myanmar Pongpipat is currently before the Special Appeals Bench of the Union Supreme Court.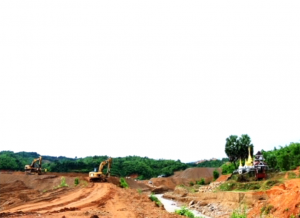 Nine plaintiffs from Myaung Pyo first launched the case in 2014, seeking compensation for what they say are the mining operation's significant impacts on the community and environment. The court initially barred the case from progressing, ruling that it should have been pursued within one year of the damages the mining allegedly incurred. DPBNL argues that a statute of limitations should not apply in this instance, citing the ongoing harm caused by mining operations.
The locals say the company's operations have resulted in extreme flooding and pollution from the resultant sedimentation, in addition to an unsafe presence of lead in the water, which they no longer dare use for drinking or cleaning.
[related]
"Under Myanmar [Burmese] law, time limits only start to run once 'continuing harm' ceases," said DPBLN in a statement released on Thursday.
DPBLN claims that in June 2016, Tenasserim Division's Environmental Conservation Department instructed that all operations at Heinda be suspended — but villagers claim the order was never enforced. Dawei Upper House MP Aung Win, however, told DVB an investigation into any malpractice at the mine began in November, and that a suspension would only be issued in February if wrongdoing was uncovered. He did not confirm whether mining remains underway at this time.
When contacted by DVB, Environmental Conservation Department representative U Paing said only that he "did not know" whether mining continued. Several calls to Ministry of Mines and the director of Mining Enterprise No. 2, U Aye Zaw, yielded the same response. Myanmar Pongpipat did not respond to a request for comment.
The Supreme Court's Special Appeals Bench is expected to announce a verdict within the coming weeks, and the villagers and their representation are hopeful, saying: "As Burma seeks to enter a new era of human rights, democracy and sustainable development, the Heinda mine case and the response of the Environmental Conservation Department are a crucial test of the government's and courts' commitment to these principles.