FROM THE DVB NEWSROOM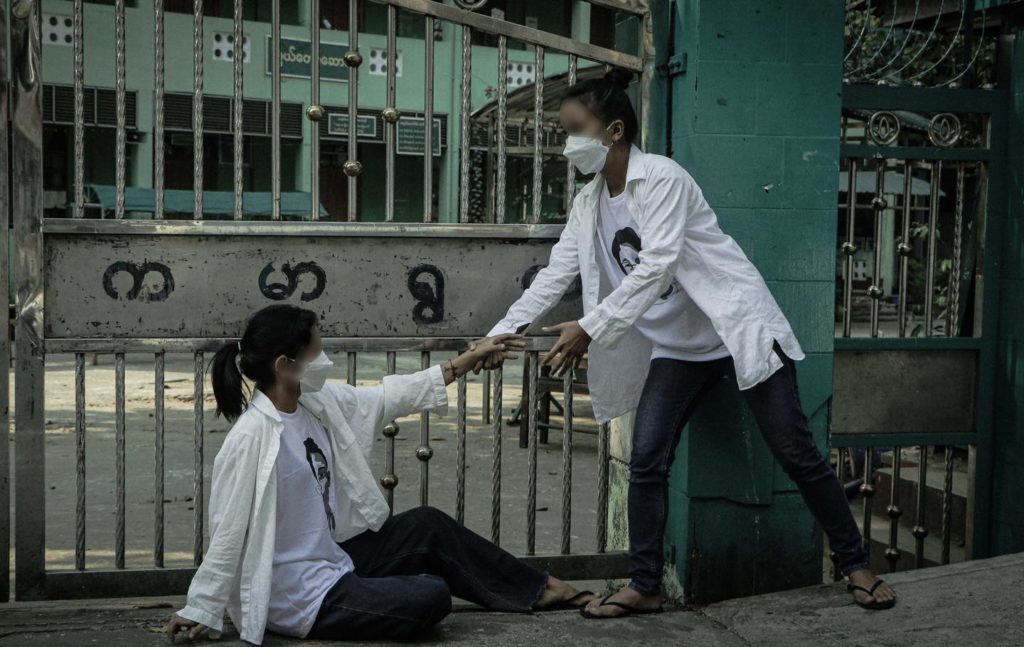 A tribute to the "fallen heroes" killed for standing up to military
Yangon Revolution Force (YRF) Soft Strike Community held a tribute to those killed during a violent crackdown on anti-coup protesters in Yangon on Feb. 28. Daw Tin Nwe Yi, a 59-year-old teacher, and Ko Nyi Nyi Aung Htet Naing, a 23-year-old internet network engineer, were among the first protesters killed in Yangon. At least 15 others were killed in 2021 for opposing the military coup. The YRF wore T-shirts emblazoned with images of its "fallen heroes" and visited the sites of their deaths. In front of the Kamaryut Township High School gate, they recreated how Ko Nyi Nyi Aung Htet Naing was killed by the coup regime forces.
Regime denies Aung San Suu Kyi and Win Myint access to lawyers
Aung San Suu Kyi and President Win Myint are unable to meet with their lawyers and family members, legal sources told DVB. "We requested to meet with them, especially Aung San Suu Kyi. But they haven't allowed us to meet with them yet and not even their families and lawyers have been able to," the source said on the condition of anonymity. The regime has not allowed Win Myint to meet with his family since he was moved to Taungoo Prison last year. Lawyers requested to meet with the detained leaders in January as they are appealing their sentences to Burma's Supreme Court. Aung San Suu Kyi has been sentenced to a total of 33 years in prison while Win Myint has been sentenced to 12 years.
Nestle to exit Burma
The Swiss food giant Nestle is planning to cease its operations in Burma, a local media outlet BETV Business reported. A spokesperson of Nestle stated that it will exit Burma due to the current economic situation. No date has been announced yet. Nestle wants to ensure that its 138 staff members are not harmed. It founded Nestle Myanmar Limited in 2013.
News by Region
KACHIN—Two people were killed and others were injured during an airstrike on a gold mining site in Shwegu Township on Feb. 27. "Two people were killed instantly, and numerous others were injured," a local said. "I have heard that this place produces a lot of gold. It was a place where mining companies, in cooperation with the junta, dug large quantities of gold with large machinery. Locals protested against the digging with heavy machinery. I learned that someone reported this to the military, and [it] bombed the mining site," another local said.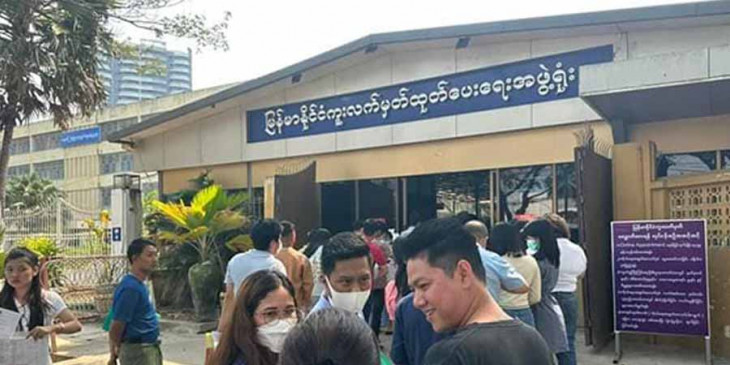 KAREN—The passport office in Myawaddy town reopened on Feb. 27 after a temporary closure. The office announced that anyone connected to a political party will need to bring an approval letter from a party official in order to apply for a passport. People working for non-governmental organizations (NGOs) would also need approval letters. The passport office in Yangon remains closed due to reported issues with its Online Approval System.
Karen Peace Support Network (KPSN) reported that the number of Internally Displaced Persons (IDPs) in the state has increased by 532,671 since the coup. These displaced people and families require immediate assistance. The KPSN stated airstrikes have intensified in the past two months, forcing more locals to flee their homes. Since November 2022, the KPSN has documented 29 civilians killed in the Nyaunglebin District, located in the Karen National Union's (KNU) Brigade 3 territory, due to Burma Army shelling, drone and air strikes.
KARENNI—Two people were killed and four were wounded by artillery shells in Demoso Township on Feb. 27. "A shell dropped inside a house in Cherry Gone village. The couple were hit. The wife was killed instantly. and the husband's arm was broken. He was seriously injured and sent to the hospital," an IDP said. The Burma Army shelled another part of the township on the same day, killing one and injuring three others, the Karenni Nationalities Defense Force (KNDF) claimed. Four houses were also destroyed by the shelling.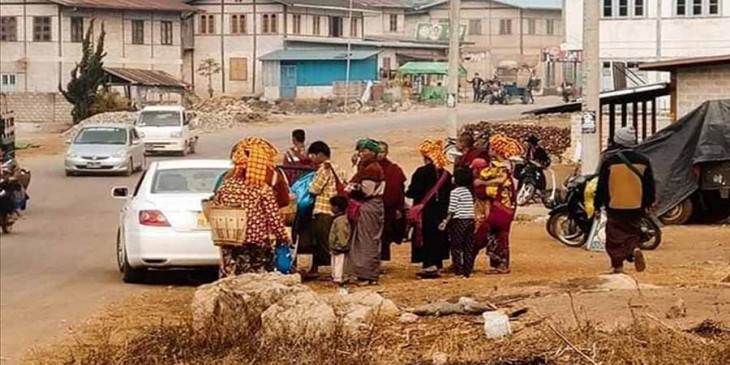 SHAN—Civilians have been killed and 3,000 people have fled Pin Laung as fighting between the KNDF and the Pa-O National Organisation (PNO) took place from Feb. 24-28. The KNDF raided two outposts of the PNO, which sparked the fight. "Three Taungmaethin villagers went back to their homes from the monastery where they had been sheltering. Then they discovered dead bodies in the forest with gunshot wounds. Three have been reported missing," a local told DVB. The Burma Army is reported to have shelled villages where the KNDF is based, killing one, injuring others, and destroying four houses. The displaced people are in urgent need of food and medication.
At least three people were injured during multiple explosions in Tachileik town on Feb. 27. The explosions occurred in front of Myawaddy Bank and the office of the Union Solidarity and Development Party (USDP). "We heard a very loud explosion. Then we heard a series of explosions 20 minutes apart each. The explosions broke out near the office. They were injured when another explosion broke out as they checked on the first explosion, but the injuries are not critical," a local said. Concerns have been raised by locals that the Tachileik-Mae Sai Friendship Bridge may close following this attack.
YANGON—Two men were arrested after an explosive was discovered at the entrance of Yangon International Airport on Feb. 27, said a Mingaladon Township resident. The men were stopped at a police checkpoint in Insein Township and tried to flee the scene. The men were arrested and sent to Mingaladon Police Station.
DVB Peace Documentary 2022 Finalist "The Key" is about an old wooden house on the Thai-Burma border, where stateless people take shelter. DVB English is on-demand via Facebook, Twitter, YouTube, Instagram, TikTok & Substack.