FROM THE DVB NEWSROOM
Northern Rakhine State in need of emergency aid
Over 1,000 homes were destroyed by Cyclone Mocha in Rakhine State's Kyauktaw and Rathedaung townships. Residents are in need of emergency assistance. At least 129 houses in A Pauk Wa village of Kyauktaw Township were destroyed on May 14. These families are still sheltering at evacuation centers set up at local monasteries. "No group has come to our village to help yet despite it having been a week after the storm. We're fixing our houses on our own," said Aye Myat Maw, a resident of A Pauk Wa. Local rescue teams state 95 percent of Rathedaung Township has been destroyed. People are requesting food, clean drinking water and construction materials.
UNOCHA submits cyclone aid plan
The U.N. Office for the Coordination of Humanitarian Affairs (UNOCHA) submitted a two-week distribution plan to Naypyidaw for approval to provide aid to Chin and Rakhine states. Its local partner organizations have begun to distribute humanitarian aid to the most impacted areas. Damage to infrastructure and water systems has limited access to clean drinking water in Sittwe and Rathedaung townships, increasing the risk of waterborne illnesses. Several health centers, hospitals, and public schools have been damaged or destroyed.
Pita Limjaroenrat calls on Thailand to assist
Thailand's Move Forward Party leader Pita Limjaroenrat called on Prime Minister Prayut Chan-o-cha to provide immediate humanitarian assistance to victims of Cyclone Mocha. The storm killed hundreds of people and caused severe destruction to people's livelihoods in Burma. "I call on the Thai caretaker government and the international community to expedite the delivery of humanitarian assistance to those affected by the Cyclone, with priorities given to those in dire need first. This is in line with my new foreign policy agenda as PM-Elect," he said. The Royal Thai Air Force is planning its first delivery of humanitarian aid to Cyclone Mocha victims.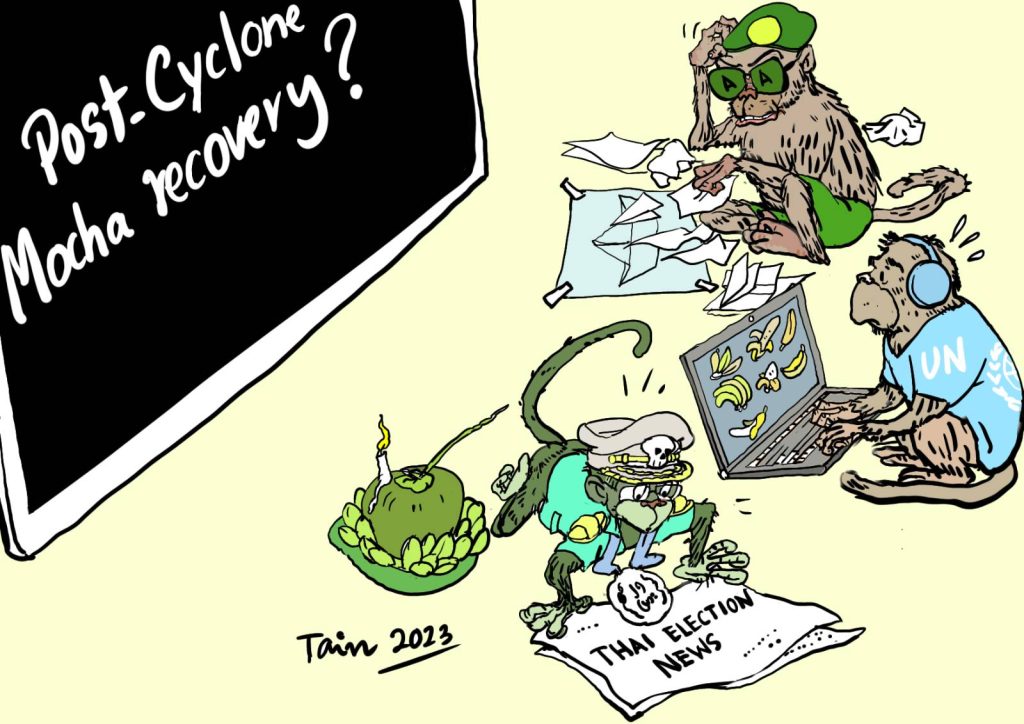 Burmese workers arrested in Thailand
Thirty-two undocumented Burma nationals were arrested after Thai authorities investigated a noodle factory in Nakhon Pathom Province on May 19, Thai media reported. They will be prosecuted in accordance with Thailand's immigration law.
News by Region
KARENNI—Three Karenni Nationalities Defense Force (KNDF) members were killed and homes were destroyed in airstrikes on eastern Demoso Township. The Burma Army began its offensive on May 14. "It has been going on for nine days straight. They sent special commandos and conducted airstrikes," said a KNDF spokesperson.
MAGWAY—Four bodies were recovered in Sinphyu Kyun town of Minbu Township after flash flooding caused by Cyclone Mocha. "Living here is very difficult as people are suffering due to the disaster. We need pots, pans and household staff as well," a local said. Hundreds of acres of green beans and sesame fields were destroyed. Over 5,000 homes were damaged.
SAGAING—The Kalay Township Court sentenced three men to two years in prison with hard labor each for being alleged members of the People's Defense Force (PDF). "They have been arrested on accusations of being PDF members. They were just construction workers who traveled to upper Burma for a living," a local said. The men were arrested in April 2023.
TANINTHARYI—A man arrested on May 15 in Dawei town died during interrogation, a source close to the victim's family said. "We were informed through an administrator that he died on May 20. They didn't give the body back," a source said. The family is trying to retrieve their son's body in order to give him a funeral.
YANGON—Soldiers are accused of assaulting skateboarders under an overpass in Kamayut Township on May 21. "The army arrived and beat a boy with a gun. They told the other young people to lie down on the ground and they beat them," a witness said. Soldiers have restricted activities under road overpasses.