FROM THE DVB NEWSROOM
Shelling kills at least 10 at birthday celebration in Maungdaw
Ten villagers were killed and over 50 were injured in Gyaik Chaung village, Maungdaw Township on Nov. 16. "There was a birthday celebration for a newborn baby this afternoon and almost all the villagers were there. The artillery fired from Kyain Chaung 24 Strategic military camp dropped at the center of the celebration, killing seven people on the spot and injuring more than 50," a local told DVB. The injured were sent to Maungdaw Hospital. "Ten are now dead. I think almost all of the villagers are injured," another told DVB. Gyaik Chaung village has a population of around 500 and is primarily inhabited by ethnic Mro people.
Military council reshuffles ministers
The military council sacked two of its ministers and shuffled some ministerial positions. The order was issued by Lt. Gen Aung Lin Dwe on Nov. 14. Hla Moe was appointed the Minister for Agriculture, Livestock and Irrigation, and General Myo Thant is now the Minister of Construction. The two previous ministers have retired, according to junta media.
News by Region
KAREN—Three Chinese nationals were killed, and eight others were injured, after an airstrike on a mining site in Payathonzu Township on Nov. 16, according to locals. The mining site is located 18 miles from the border town of Payathonzu. The injured were sent to hospital, a local defense force said.
KARENNI—One child was killed and eight were injured at a preschool in Dawniku village, Demoso Township on Nov. 15. The Burma Army shelled the village, an information officer of the Karenni Nationalities Defense Force (KNDF) said. "There were nine family members inside the preschool. All of them were hit by the artillery and this morning a child died and his father is in critical condition. Three other people in the family are also in critical condition," the KNDF reported. No clashes between the KNDF and Burma Army have been reported this month.
"Those villages are only home to villagers. None of our regiments are there. There has been no fighting since the first week of November. They are targeting civilians and will not stop," the KNDF stated. The Burma Army shelled Pekon Township on Nov. 14, injuring three civilians, the Karenni War Refugee Assistance Network announced. Locals displaced from previous fighting have grown fearful of the shelling. A total of 28 civilians were injured and 51 houses were destroyed in Karenni State from Nov. 1 to 15, the KNDF reported.
KACHIN—A house believed to be owned by a member of the Kachin Independence Organization (KIO) was bulldozed in Myitkyina Township on Nov. 16. "Around 50 [Burma Army] troops arrived in three military vehicles at around 5 a.m. The people living in the house were ordered to leave. They demolished the house claiming that it is connected with KIO officers that were arrested at a KTV," a resident old DVB. Kachin news outlets reported that 16 people believed to be KIO administrative officers were arrested at a KTV in Myitkyina on Nov. 11. Three of them were released the following day, according to reports.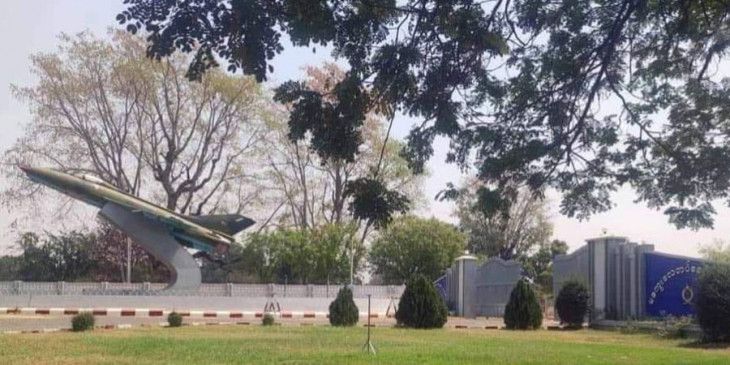 MAGWAY—The Karen National Liberation Army (KNLA) and People's Defense Force (PDF) fired missiles at the Magway Air Force HQ on the morning of Nov. 15. "That attack was a retaliation for [airstrikes in] Karen and Kachin states. If they kill one civilian, we will kill 10 of them. It was an attack on an airbase that houses aircraft that killed innocent people," Saw David, a representative of the defense force, told DVB. Security forces conducted strict inspections at the entrances of Magway and checked vehicles.
MANDALAY—Eighty Burma Army troops were either killed or injured, and three military vehicles were damaged, in Madaya Township on Nov. 16. An alliance of resistance groups claimed responsibility for the attack, according to Patheingyi Information, a scout team for local resistance groups.
SAGAING—Six resistance group outposts, based along the India-Burma border in Tamu Township, were captured by the Burma Army on Nov. 15. "The Burma Army has fired heavy weapons from its base. One of our comrades died by the heavy shelling. There were also exchanges of gunfire at close range. There may be casualties on their side," a representative of Tamu People's Defense Force told DVB.
"I sincerely apologize for making the public sad because of the reports of the seizures. We call on people not to feel depressed and to be patient because our revolution must be successful in future," a member of the Burma Student Organization (BSO) posted to Facebook. "They started shooting heavy guns and continuously fired with machine guns. We had to retreat because our weapons were not comparable," another local defense force said. According to residents, the Burma Army burned down a school in Tamu town on Nov. 15 just before the attack on the outposts.
RAKHINE—Three locals were killed and three others were injured in Chaung Tu village in Kyauktaw Township on Nov. 16. "Three heavy weapons fell on the village at noon. Three men died on the spot," a local told DVB. Residents fled the village. The civilian death toll in Rakhine has steadily increased due to the Burma Army's indiscriminate shelling.
*All stories are based on breaking news, and are reported with information that DVB receives in real time. DVB will update stories on our social media pages or website as and when new or more accurate information becomes available.