FROM THE DVB NEWSROOM
Telecoms restored in Rakhine State
Of the 1,233 mobile operator base stations, or cell towers, in Rakhine state, 904 of them were damaged by Cyclone Mocha on May 14. One was completely destroyed and 793 have so far been repaired, according to the four mobile operators in Burma. Regime media reported that Myanma Posts and Telecommunications (MPT) has built temporary satellite terminals in Rakhine State. "In order to restore mobile communication in Sittwe, we fixed fiber networks and brought mobile communication vehicles from Yangon. We have connected fiber networks with the remaining 329 mobile base stations," said an MPT spokesperson. Phone and internet services were reportedly restored in Rakhine State on May 29 – 15 days after Cyclone Mocha knocked it out.
No legal counsel for Aung San Suu Kyi and Win Myint
The legal team representing State Counsellor Aung San Suu Kyi and President Win Myint have not been allowed to meet with the jailed leaders to discuss their appeal, which was rejected by the Union Supreme Court in February. The 77-year-old Aung San Suu Kyi was sentenced to 33 years in prison and the 71-year-old Win Myint was sentenced to 12 years. Aung San Suu Kyi reportedly receives medical checkups with two doctors inside Naypyidaw Prison, where she's being held. "We can still send parcels for her and hear she is healthy," said a lawyer on the condition of anonymity.
Japan facing pressure over official aid to military
A total of 237 Burmese civil society organizations (CSOs) sent an open letter to Japanese Prime Minister Fumio Kishida calling for an end to Official Development Assistance (ODA) going to projects run by the military regime in Naypyidaw. The letter requested Japan take a leadership role at the U.N. Security Council to stop the military from committing crimes against civilians. The military has held up international humanitarian assistance from reaching disaster-affected communities in Rakhine State following Cyclone Mocha's destruction on May 14.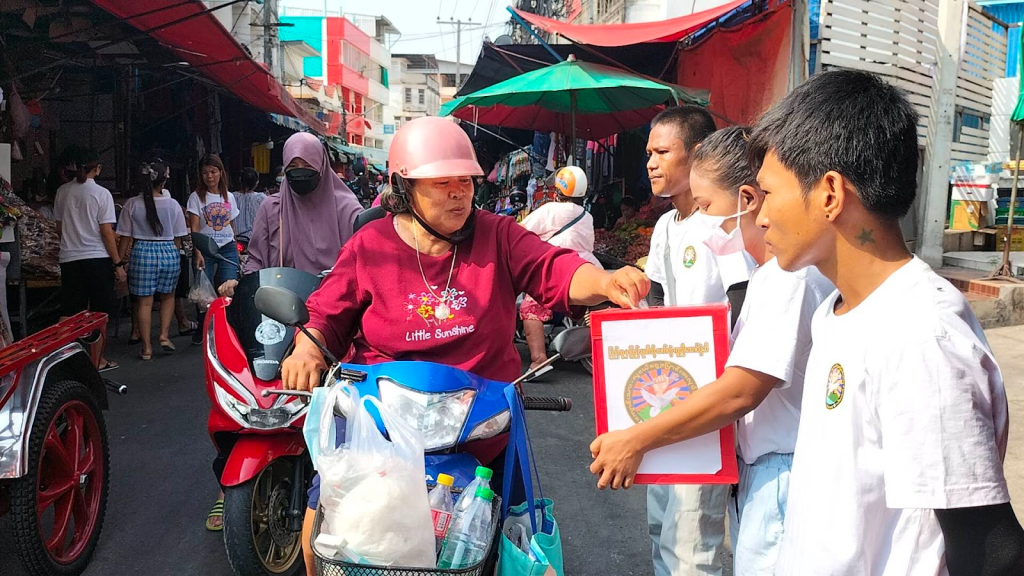 News by Region
CHIN—Airstrikes have killed seven people in Hakha Township May 25-30, The Matupi Times reported. The airstrikes targeted forces of the Chin National Army (CNA) and Chinland Defense Force (CDF). Around 150 Burma Army troops stationed in Hakha Township conducted an offensive near Themiss stream.
MAGWAY—Two Internally Displaced Persons (IDPs) were killed and two were injured when Burma Army troops opened fire in Yae Lal Kyun area of Yesagyo Township on May 29, claimed the People's Defense Force (PDF). On May 27, the Burma Army set fire to 1,000 homes in 22 villages in the Yae Lal Kyun area.
MANDALAY—One man was killed, and a three-year-old was injured, when an artillery shell landed near a home in a village of Thabeikkyin Township on May 27. "There were about 10 military cars. They shot while they were passing through the highway," a local told DVB. The victim, Kyaw Zaw Lin, died on the way to the hospital, and three-year-old Wai Phyo Aung is receiving medical treatment for a leg injury.
MON—One man was killed by an artillery shell on the Ye-Thanbyuzayat Highway May 30 during fighting between the Burma Army and the Karen National Liberation Army (KNLA) and its allied PDF. The victim, San Twin, died on the spot. Three Burma Army soldiers were killed, the PDF claimed.
SAGAING—The beheaded body of a forest department officer was discovered near the banks of the Irrawaddy River in Chipar village of Shwebo Township on May 28. "People who passed by saw the body laying on the shore, so they called the local charity group," a local told DVB. Pro-regime social media pages blamed the Shwebo PDF and other local groups but they denied responsibility.
Two people were killed in an explosion near the Union Solidarity and Development Party (USDP) office in Myinmu town on May 29. Pro-regime social media accounts allege that the victims were intending to carry out an attack with an improvised explosive device. DVB has been unable to verify whether the victims were with the PDF or other local groups.