FROM THE DVB NEWSROOM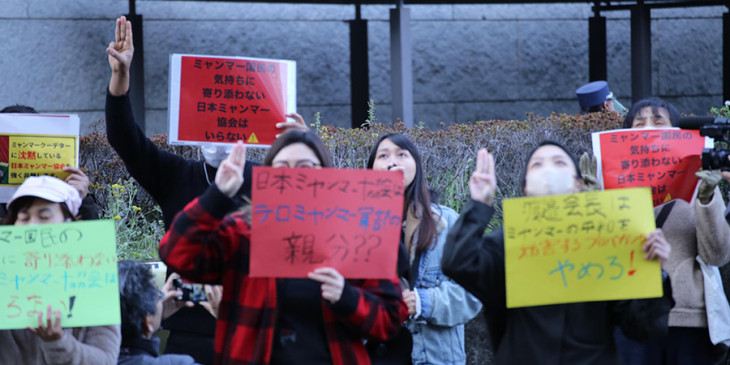 Tokyo protest against chairperson of Japan-Myanmar Association
A protest took place in front of the Japan-Myanmar Association office in Tokyo on March 14. Many spoke out against its chairperson Hideo Watanabe. "As a Japanese, I am ashamed to see how Watanabe accepted the medal from the military leader who is terrorizing and killing Burmese citizens. We should carefully listen to the current wishes of the people from Burma," said Yuki Kitazumi, a Japanese journalist arrested but released from prison in Burma in May 2021. Watanabe and former Japanese Prime Minister Taro Aso recently received medals from the regime. Watanabe has met with Min Aung Hlaing at least four times since the 2021 military coup.
An additional charge filed against Hkalam Samson
A Myitkyina court filed an additional charge under the Counter Terrorism Act against Hkalam Samson, former chairperson of the Kachin Baptist Convention (KBC), on March 14. He now faces three charges total. "The court examined two defense witnesses and gave an additional charge under Section 52(A) of the Counter Terrorism Act," said Daw Nan, the lawyer representing Samson. It is alleged that Samson met with the National Unity Government (NUG). He has not been allowed to meet with his family since he was detained at the Myitkyina airport – forced to return from Mandalay, where he was bound for a doctor's appointment in Bangkok, Thailand. Samson's next court hearing is March 21. Samson also faces charges under the Unlawful Association Act and for incitement.
Thai authorities issue arrest warrant for KTLA leader
Thai police have ordered the arrest of the leader of the Kawthoolei Army (KTLA) and another man, Salween Press reported. Thai police have intensified its search for Ner Dah Mya and Bo Heh Yae from the KTLA at Thai inspection gates in Kanchanaburi and Tak provinces. Thai authorities state that Ner Dah Mya and Bo Heh Yae kidnapped two Thai nationals for taking KTLA money to purchase weapons but not doing so. Ner Dah Mya has a Thai identification card and was last spotted in Tak and Kachanaburi provinces.
News by Region
KARENNI—Residents of Demoso Township have fled attacks by the Burma Army. "The offensive started in eastern Demoso. Residents were forced to flee the fighting," a spokesperson of a local rescue group said. The number of officially displaced residents has reached over 200,000, the Karenni Civil Society Network (KCSN) announced. Two civilians were injured after a vehicle was hit by an artillery shell.
MON—Four houses in Wintapan village of Bilin Township were destroyed by artillery shells fired by the Burma Army on March 11, the Karen National Union (KNU) announced on March 14.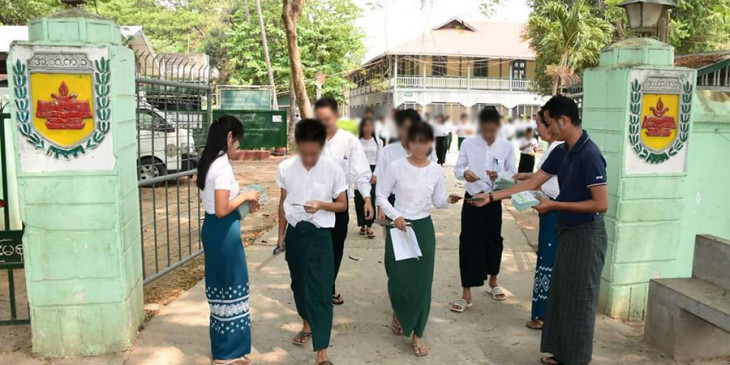 NAYPYIDAW—Students finishing their matriculation examinations were handed leaflets by regime officials on March 15 to promote the upcoming 78th Armed Forces Day. "In recent years, I have heard that the number of students attending military academies has decreased. That's why they targeted students who took the exam. Now, many students are not interested in going to universities," a man said.
SHAN—One inmate was killed at Nyaung Shwe prison in Taunggyi Township on March 14. Two other inmates and two prison staff were injured, sources close to the prison said. Prison authorities fired at inmates who tried to stage a prison break. "Ambulances came after we heard gunshots," a local said. Fifteen inmates beat two prison staff and tried to escape, he added.
Residents of the Pa-O Self-Administered Zone protested against the People's Defense Force (PDF) and Karenni Nationalities Defense Force (KNDF) on March 15 in Taunggyi. One protester held up a banner urging the PDF and KNDF to retreat from Pa-O areas. One person per household from the Pa-O Self-Administered Zone was ordered by the Pa-O National Organisation (PNO) to join the demonstration. Those that refused had to pay a fine of K50,000 ($23.79 USD), according to locals. "In this area, the PNO will hold a grudge against you if you do not obey its orders. It's a way to create disunity between the PDF and the locals," said a Pa-O man.
Shan State Rivers Network (SSRN) said the ecosystems of lakes and rivers across Burma have deteriorated since the 2021 coup. The junta has allowed foreign joint venture companies to build dams and mining projects which is cause for concern, SSRN told DVB. "The regime has allowed gold and mineral mining to continue as well as dam projects without informing the people in order to earn foreign currency. Due to this era of the coup, locals in those areas have been facing difficulties protesting against those projects to protect their own land," said Sai Haw Shan, the SSRN spokesperson. He urged these companies to halt their projects.
Watch this DVB Youth Voice story on podcasting in Myanmar. It tells the story of two new Burmese language podcasts. DVB English is on-demand via Facebook, Twitter, YouTube , TikTok, Instagram & Substack.