FROM THE DVB NEWSROOM
UN human rights chief condemns military attacks
The U.N. High Commissioner for Human Rights Volker Türk told the Human Rights Council that the people of Burma have faced widespread attacks and human rights violations at the hands of the Burma Army. He reported that 867 airstrikes were launched from April 2022 to July 2023 with at least 22 cases of mass killings of 10 or more people.
Naypyidaw's ban on humanitarian aid following Cyclone Mocha on May 14 has included the denial of medical care, shelter, and clean drinking water to Arakan State residents. "We are faced here with a system of ruthless repression designed to coerce and subjugate its people and to erode a society so that the predatory interests of the military are preserved," said Volker.
UNOCHA states over 17,000 displaced in one week
Over 17,000 people in Burma were displaced from their homes due to armed conflict from Sept. 19-25, stated the U.N. Office for the Coordination of Humanitarian Affairs (UNOCHA). Around 15,000 are now Internally Displaced Persons (IDPs) in Kyainseikgyi Township of Karen State.
There are at least 1,850 IDPs in southern Shan, 760 IDPs in northern Shan, and 100 IDPs in Kachin State. Humanitarian workers were able to provide critical aid to 1.8 million people during the first half of 2023, added UNOCHA.
NLD commemorates its 35th anniversary
The National League for Democracy (NLD) party was founded on Sept. 27, 1988. On its 35th anniversary, the NLD claimed that 97 of its members have been killed since the 2021 military coup and 1,769 have been arrested. The National Unity Government (NUG) acting President Duwa Lashi La said that the NLD remains committed to working for democracy.
The NLD states that it will not participate in any regime-planned election due to "a lack of democratic standards and unfair election laws." It urged the international community to pressure Naypyidaw to release all political prisoners, including Aung San Suu Kyi. It claimed that she could de-escalate Burma's political crisis and help build a federal democratic union.  
News by Region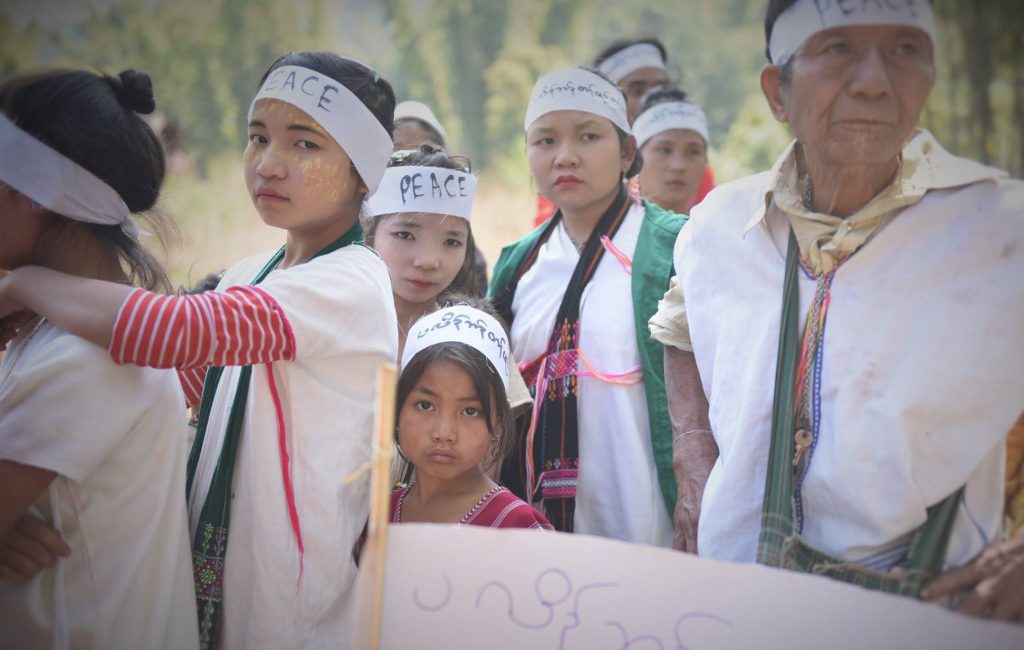 KAREN—Over 637,414 people have fled their homes due to fighting and are IDPs as of July 2023, states Karen Peace Support Network in its latest report.
"Currently humanitarian aid inside the country is not being distributed [effectively] because the military is intimidating and threatening all humanitarian [organizations] trying to distribute aid to IDPs. The international community should channel all humanitarian aid through cross-border networks," said KPSN Deputy Director Saw Lay Ka Paw.
CHIN—A delegation from the Chin National Council (CNC) Mindat held a meeting with India's Mizoram Chief Minister Zoramthanga, a CNC spokesperson confirmed. The parties discussed issues related to refugees, border crossings, and drug trafficking.
"The primary focus of the discussion was on IDPs," the CNC spokesperson told DVB. Mizoram officials expressed their commitment to continue providing assistance to Chin refugees. Over 50,000 from Burma have sought refuge in Mizoram, India since the 2021 coup.
MANDALAY—A Burma Army outpost was attacked by the Ta'ang National Liberation Army (TNLA) and the People's Defense Force (PDF) in Mogok Township on Sept. 26. Burma Army equipment was seized.
"There may be casualties due to the attack, but the exact number remains uncertain," said a Mogok PDF spokesperson. The operation was led by the PDF and the TNLA. The two groups have launched recent attacks together against the Burma Army in Mogok.
NAYPYIDAW—The regime is collecting household data in 20 townships as a part of a pilot census from Oct. 1-15. Yin Kyaw Oo, director general of the Department of Population under the Ministry of Immigration and Population, told regime media that the data will be collected from 20 townships, including in Naypyidaw. A pilot census is being conducted before the planned census Oct. 1-15, 2024.
SAGAING—The Myinmu PDF claims 24 of its members and one local were killed following their arrest during a Burma Army raid in Myinmu Township on Sept. 23. The PDF claimed that the 24 had been subjected to torture before being killed.
"One of the main reasons for this incident was the insufficient availability of weapons among the resistance forces," said a Myinmu PDF spokesperson. The Burma Army seized their weapons.
YANGON—Six people escaped from jail at the Dala Township police station on Sept. 26. "I heard they broke the roof of the cell and ran off early that morning," said a Dala Township resident.
A source close to the administration said that police officers are now under investigation. The inmates were arrested on charges related to robbery and drugs. The Burma Army set up a checkpoint to inspect pedestrians and vehicles following the jailbreak.